The Community Safety Department's Security Services is committed to keeping York University campuses safe for everyone.
All of the Security Services personnel are trained to a high professional standard to ensure your safety and to deal with any incidents that may occur.
To develop a relationship with and better serve the community, Security Services personnel are on campus everyday, interacting with students, staff, faculty and visitors, out in the community.
Security personnel can be seen walking around campus, in patrol vehicles and, when the weather allows, on mountain bikes.
Security Services can be contacted through a number of different methods in emergencies or for non-urgent safety matters.
Security Services Operations consists of approximately 70 security personnel in various roles between the Keele and Glendon campuses.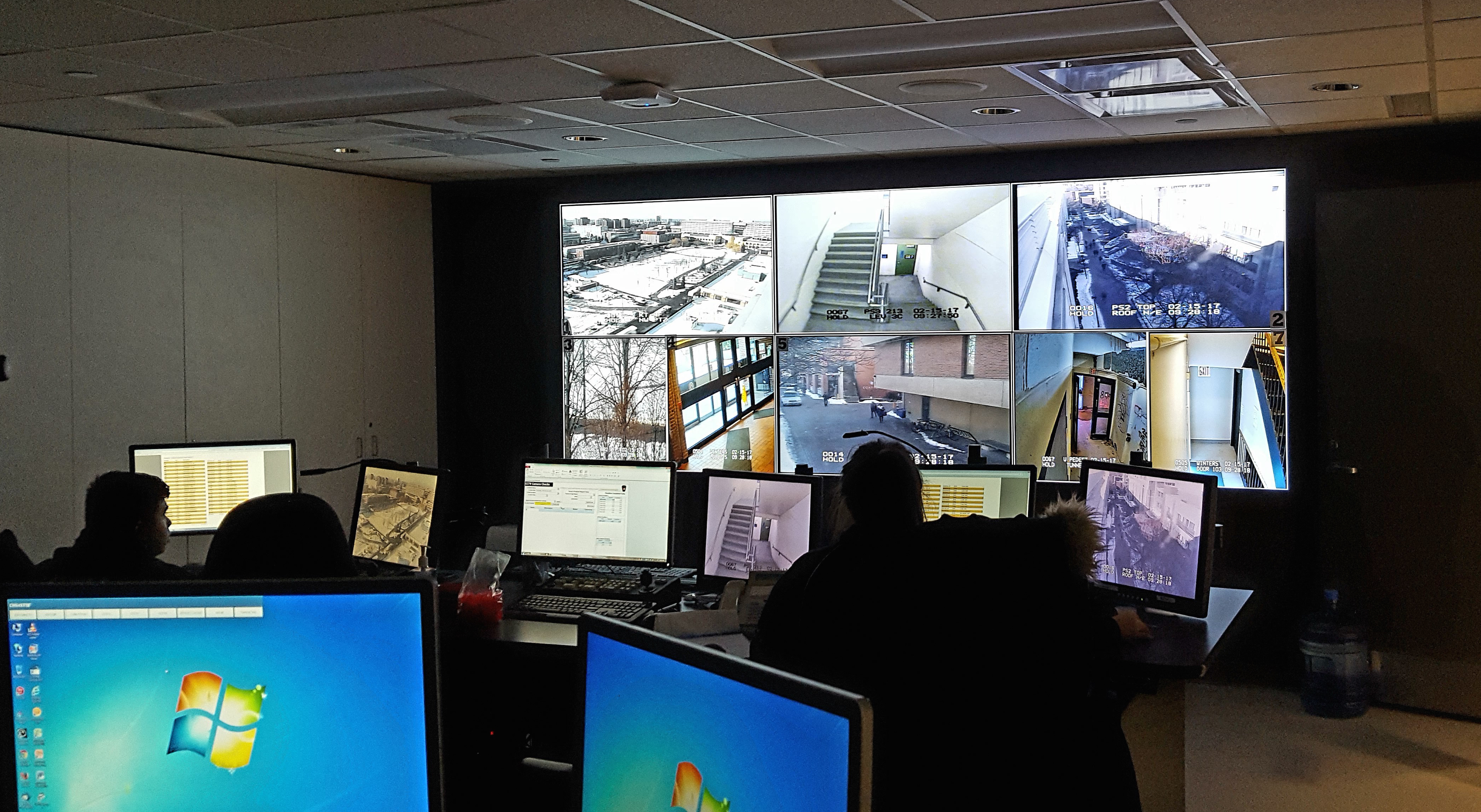 The Security Control Centre is the central security dispatch, alarm and closed-circuit television (CCTV) monitoring hub for the York University campuses . Operating 24/7, the Security Control Centre receives and dispatches  calls for service. The Security Control Centre is equipped with state-of-the-art monitoring equipment, including a video wall that is capable of displaying live video feeds from the hundreds of cameras.
---
Locations
Security offices are located at:
---
Training and Standards
Security Services is committed to delivering high-quality and professional service to the York community; therefore, they undergo ongoing training in key areas, such as:
Accessibility for Ontarians with Disabilities Act, 2005 (AODA) (e.g. accessible customer service)
Access to information and protection of privacy @ York U (i.e. Freedom of Information and Protection of Privacy Act)
Communication techniques (e.g. crisis de-escalation)
Crime Prevention through Environmental Design (CPTED)
Criminal Code of Canada
Cyber-Security Awareness Training
Health and Safety
Incident Management (IMS 100)
Mental Health and Awareness
Private Security and Investigative Services Act, 2005
Respect, Equity, Diversity and Inclusion (REDI)/Human Rights
Responding to Disclosures of Sexual Violence
Safety Standards & Response (e.g. defensive tactics, active threat, crisis intervention, use-of-force model)
Sexual Violence Response & Awareness
Standard Operating Procedures (e.g. report writing, arrest and search procedures and the intervention model)
Trespass to Property Act and other provincial legislation
Workplace harassment and violence for faculty and staff
Workplace Hazardous Materials Information System (WHMIS)
---
First Aid Response
Security Services provides 24-hour first aid response to individuals experiencing illness or injury. Security personnel are trained in:
Emergency First Aid
Cardiopulmonary Resuscitation (CPR-C)
Bleeding Control
Overdose Education, Prevent and Response
Mental Health Awareness
Applied Suicide Intervention Training (ASIST)
First Aid Equipment
First Aid kits
Automated External Defibrillators
Oxygen
Naloxone
---
Emergency Services Vehicle Escort
Security Services has agreements in place with emergency responders (i.e. firefighters, police and paramedics) that when they are responding to an emergency on campus, Security Services personnel will meet them at the campus perimeter to escort them to where they need to go.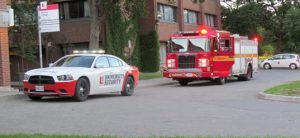 ---
Undergraduate Residences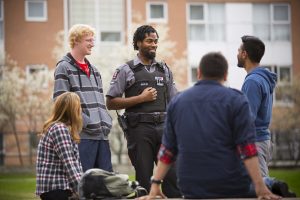 Security Services' Security Watch personnel are stationed overnight in undergraduate residences during the Fall and Winter Terms. They support residence life by providing pro-active security patrols, access control, alarm monitoring and other safety and security services within the undergraduate residences.
---
Investigations and Threat Assessment
Security Services' Investigations and Threat Assessment personnel proactively research upcoming events to ensure the safety of community members while continuing to provide a peaceful forum for York educational objectives. They conduct non-criminal investigations and assist the police with criminal investigations. They create safety plans for at-risk individuals.