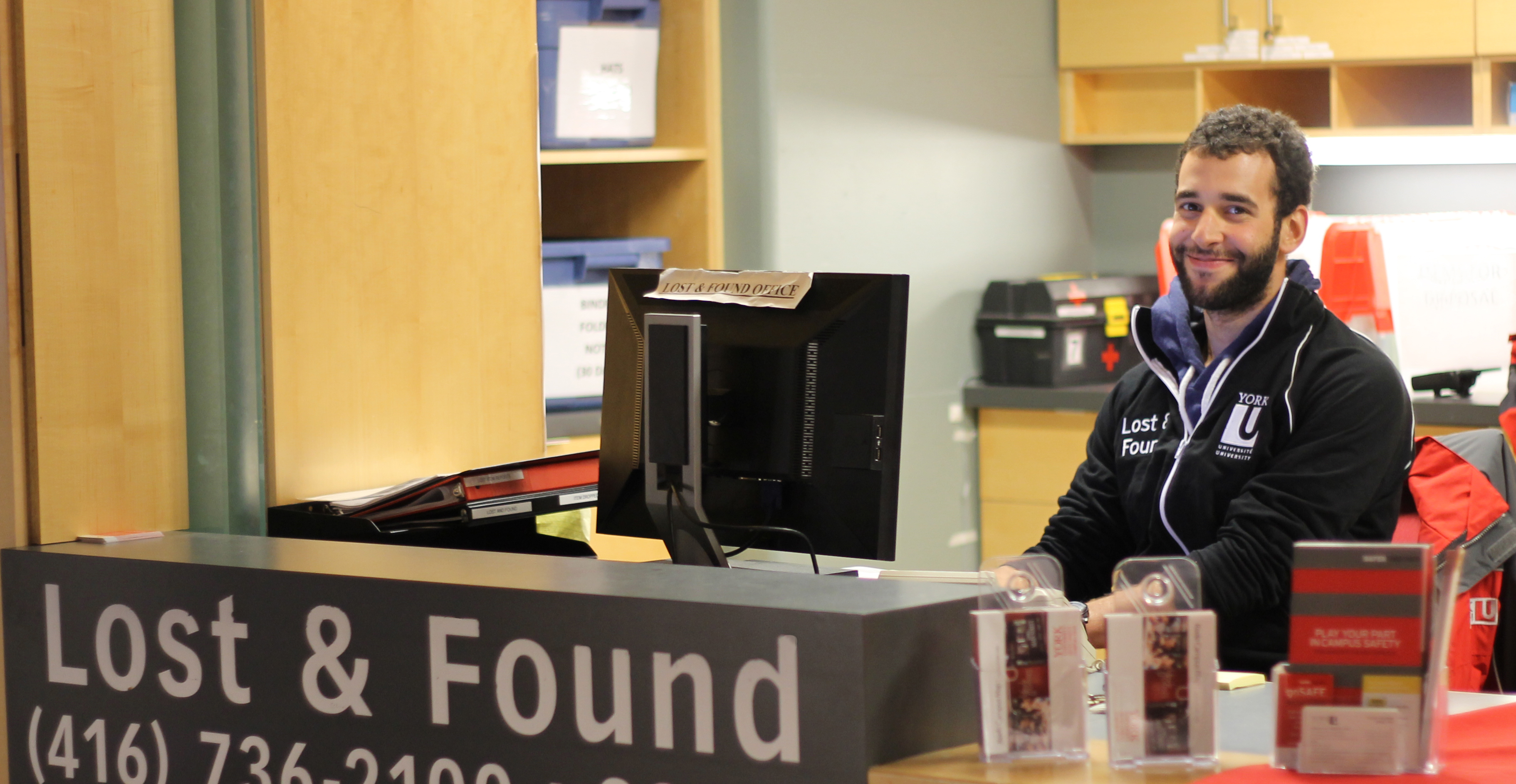 Keele Campus
Location: South Ross Building, Room 107 (Vari Hall/Ross Link).
Phone:     416-736-5534 or extension 55534 from your office phone.
Email:       lost@yorku.ca
Hours:      Monday to Tuesday: 11:30am-4:00pm (closed 4:00pm to 5:00pm).
                     Wednesday and Thursday: 11:30am-7:00pm (closed 4:00pm to 5:00pm)
                     Friday: 12:00pm to 3:30pm.

Note:        The Lost & Found Office is closed during all statutory holidays and University closures.
Glendon Campus
Location: The Greenhouse (Security Services).
Phone:     416-650-8000.
Hours:      24/7.
---
Tips
Put your name and e-mail address somewhere accessible on important belongings - this helps us to contact you. 

Be sure to check with people in the area where you think you might have lost your item (libraries, faculties, departments etc.).  While many lost items on campus end up at the Lost & Found, some locations only drop items off periodically.
---
Frequently Asked Questions
Photo ID is required for all pick-ups at Lost & Found. When picking up an item, you will be asked to present your ID, provide contact information (either phone # or e-mail address), and sign for the item before it will be released.
Items are typically held for a minimum of 30 days.
Items that are not held for that time-frame include:
YU Cards (they are turned into the YU Card office at the end of the day).
Passports (they are given to Security Services).
University keys (they are given to Security Services).
University library books (they are returned to their home library).
Sanitary or health hazards (soiled clothing, perishable food, etc. are not kept).
Unclaimed items are either donated to charitable organizations or disposed.
York University does not profit in any way from unclaimed items.
Alternative arrangements can be made on a case-by-case basis. If you are not able to pick up your lost item during business hours, or are not be able to pick it up within the 30 day maximum storage timeline, you can request that alternative arrangements be made.
Alternative arrangements can include arranging to pick up your lost item at Security Services (which operates 24/7), or having the item put in longer term storage in the event you will not be at the university for an extended period of time. Please note that these options must be arranged in advance, and that long-term storage is only available for a maximum of 90 days from the date the request is made.
If the owner is not able to pick the item up in person, a third party (with documentation of authorization) may be permitted to pick up the item on the owner's behalf.  Please contact the Lost & Found office to make arrangements.
---
Disclaimer
York University regrets that it cannot be responsible for items of personal property left unattended on the grounds or within buildings.