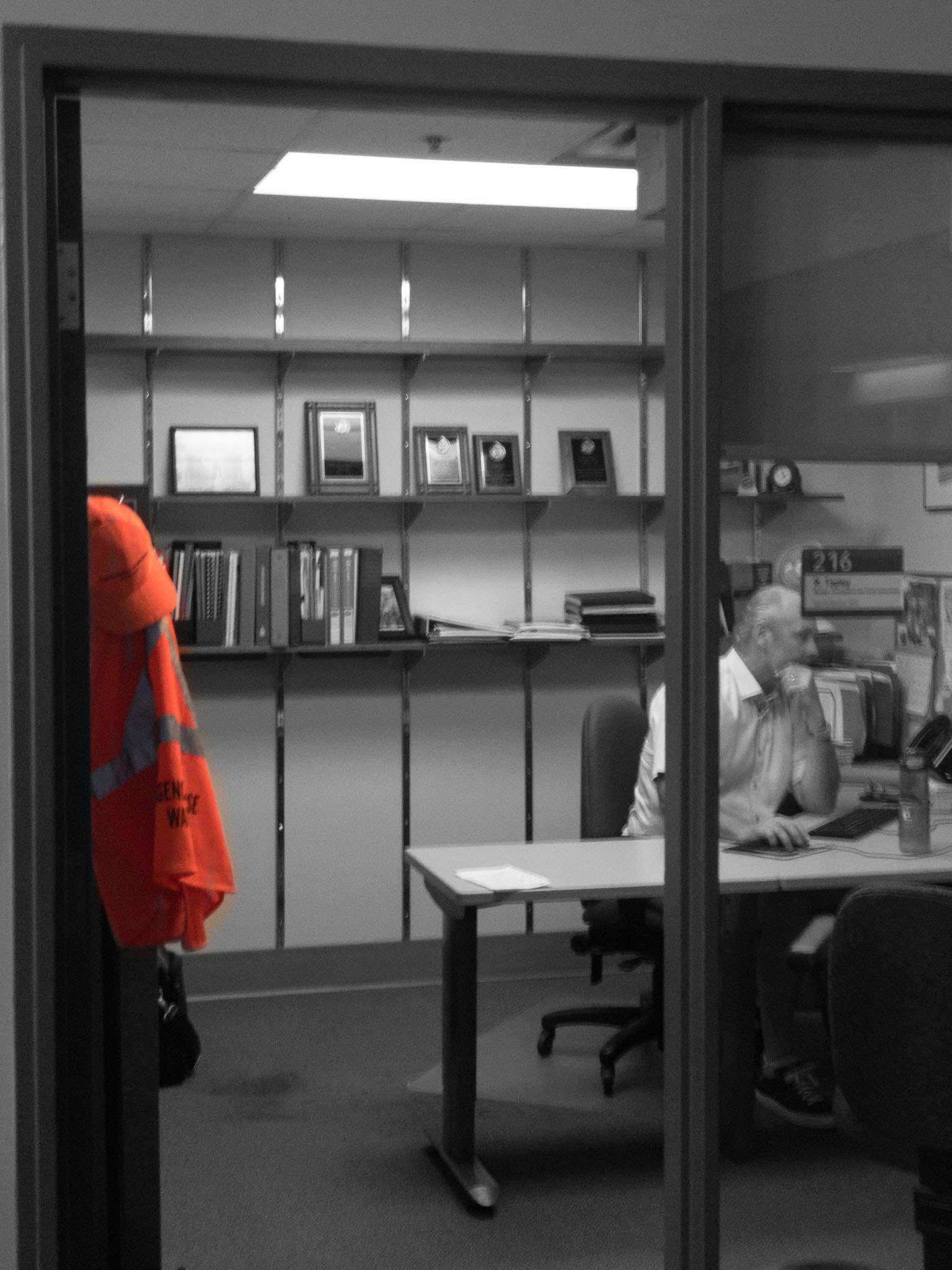 Building Captains and Emergency Response Wardens provide an important safety service for the York University Community at both the Glendon and Keele Campuses. They are volunteers who assist with various emergencies including fire alarms and evacuations.
If you are interesting in becoming an Emergency Response Warden contact your Building Captain or email oem@yorku.ca
You must successfully complete the York University Emergency Preparedness Training Course before you are appointed a Building Captain or an Emergency Response Warden. The link below will take you the York University Emergency Preparedness Training Course Moodle page:
---
Emergency Assembly Points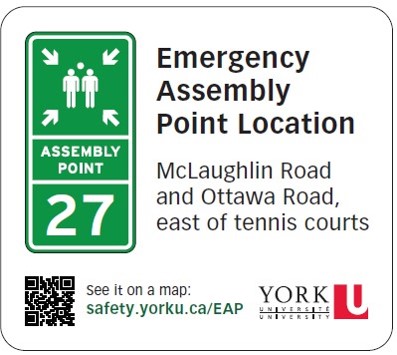 To request stickers for your area contact Mike O'Brien 
---
How to Contact Security Services
Security Services is committed to keeping York University campuses safe for everyone. They can be contacted through a number of different methods in emergencies and urgent situations or for non-urgent safety matters.
---
Automated External Defibrillator Locations
https://maps.info.yorku.ca/files/2017/01/KEELE_Map_AED.pdf
---
Fire Alarms
Two-Stage
| | |
| --- | --- |
| ACE | Accolade East |
| ACW | Accolade West |
| AR | Atkinson Residence |
| BCSS | Bennett Centre for Student Services / PS3 |
| BR | Norman Bethune Residence |
| BSB | Behavioral Sciences |
| BU | Burton Auditorium |
| CFA | Joan & Martin Goldfarb Centre for Fine Arts |
| CFT | Centre for Film & Theater |
| CLH | Curtis Lecture Halls |
| CR | Calumet Residence |
| CSQ | Central Square & Scott Relgious Centre |
| DB | Victor Phillip Dahdaleh Building |
| ELC | Executive Learning Centre |
| FRQ | Farquharson Life Science |
| FRQ | Founders Residence |
| KT | Kaneff Tower |
| LSB | Life Sciences Building |
| MB | Rob and Cheryl McEwen Graduate Study & Research Building |
| OSG | Ignat Kaneff Building, Osgoode Hall Law School |
| PASSY | Passy Gardens Apts. |
| PON | The Pond Road Residence |
| R | Ross Building |
| RM | Tait McKenzie Centre |
| SCL | Scott Library |
| SHC | Sherman Health Research Centre |
| SR | Stong Residence |
| SSB | Seymour Schulich School of Business |
| TR | Tatham Hall Residence |
| WC | Winters College |
| WSC | William Small Centre / PS2 |
| YL | York Lanes |
| | First Student Centre |
| | Second Student Centre |
Single Stage

| | |
| --- | --- |
| 320 | 320 Assiniboine Road |
| 340 | 340 Assiniboine Road |
| 360 | 360 Assiniboine Road |
| 380 | 380 Assiniboine Road |
| BC | Normal Bethune College |
| CB | Chemistry Building |
| CC | Calumet College |
| CUB | Central Utilities |
| FC | Founders College |
| HNES | Health, Nursing and Environmental Studies Building |
| K | Kinsmen Building |
| LAS | Lassonde |
| LUM | Lumbers Building |
| MC | McLaughlin College |
| PRB | Physical Resources Bldg. |
| PSE | Petrie Science & Engineering Building (and Observatory) |
| SC | Stong College |
| SLH | Stedman Lecture Hall |
| STL | Steacie Science & Engineering Library |
| TFC | Toronto Track and Field Centre |
| VC | Vanier College |
| VH | Vari Hall |
| VR | Vanier Residence |
| WOB | West Office Building |
| WR | Winters Residence |
| | Complex 1 Core |
| | Physical Plant Workshop |
| | 190 Albany Road Building |
| | Alumni Field |
Two-Stage
| | |
| --- | --- |
| | Centre of Excellence |
| YH | York Hall |
Single Stage
| | |
| --- | --- |
| | Central Service Building |
| | Frost Library |
| GH | Glendon Hall Manor |
| | Green House (Security Office) |
| | Hilliard Residence |
| | Proctor Field House |
| | Wood Residence |
---
Building and Fire Code Compliance
How to contact them
---